Welcome to Week 39 of the Handmade Wednesday Store & Blog Hop hosted by Blue Eyed Blessings and Crocheted Little Things!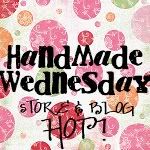 Are you trying to get your Crafty Blog and/or Store off the ground?
Looking for more followers for your crafty related blogs?
Looking for more people to "favorite" your store?
Are you looking for new hip and original crafty stores?
If you said yes, to any of the above questions, you're in the right spot!
*************************
Each week we'll spotlight one Etsy Blog & Etsy Site picked at random via Random.org to be included in the next week's Wednesday Handmade Store & Blog Hop Linky!