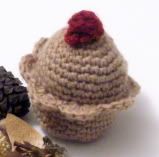 Hi there to all, this is Lu. Here it is newsletter #4. I'm starting with greeting you with an awesome giveaway on my blog! Click on the cupcake so you can know everything about it. Hope to see you all there for your chance of winning. Also, there is a sweet sale associated with it in case you need a last minute gift before Christmas. So, be sure to check it out!
What happened?
Crocheted Little Things is growing and expanding. I'm working on my brand new website and I'm sharing a sneak pick with you! It's still a working in progress and I will love to know your feedback on it!
What's coming up?
New products are definitely in production and you don't want to miss them! Let's see if this will give you on idea on what's coming!
That's it for now! Just wishing you a Merry Christmas and Happy Holidays: enjoy yourselves and LOVE a lot!
Sign Up for next newsletter
!