This time I'm giving away another hat, a funny one with bear's ears and ear flaps like this one: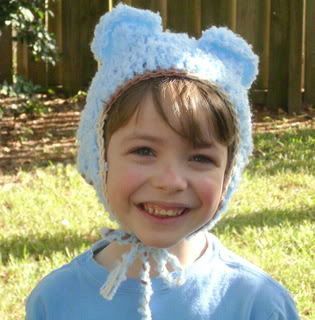 It will look just adorable on a little one who wants to play to "let's pretend".
One size will fit kids between 2 and 5 years old it's suitable both for boys and girls.
The material is really soft and will keep you kids' ears warm thank to the ears flap and they'll love to wear it just like my kids do.
I used a skein of Berbat baby Boucle' in Misty Blue 98% gentle soft Acrylic and 2% polyester for the main part of the hat while the trim and the braid tails are made with a variegate white-brown cotton that can be used to tie a knot under the kids' chin.
To enter this giveaway you must go to Sarah's
blog
and read all the detail.
Also, feel free to check out the last
treasury
I made featuring sellers that like me will be affected by this law.
And don't forget to check Sarah's
etsy shop
: she makes adorable things!!!!