Happy Earth day and Mother's day!!
Hi there to all, this is Lu. Here it is newsletter #8. Sorry for the delay for this month newsletter, I battling a fight my my wisdom teeth and I'm preparing for a little surgery this Friday. Nothing to worry about, I'm sure I will be back up and running by Monday!
I'm starting with greeting you with an little
giveaway
sponsored by
me
!
---
Crocheted Little Things giveaway (Click here to go to the contest page)


Prize; Prize Value: Cupcake pincushion, $10


How Many Winners: 1


End Date: 05/05


Can Be Won: Worldwide


Prize From: Crocheted Little Things


The sponsor's description of the giveaway rules:
Many entries available, see
blog
for details. Plus a little coupon for everyone that enter.
Crochet
Click Here to go to the contest page!
---
What happened?
I'm taking a little break from my Etsy shop: I will still keep selling there, but I'm gonna try to focus on other venues for few months to explore new possibility. In this prospective, I applied for opening a store on 1000markets and guess what??? They accepted me!! Look for your self: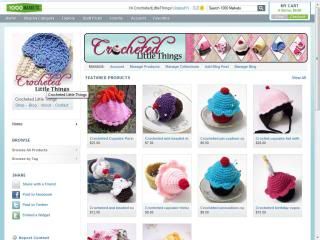 I will upload more of my inventory soon! In the mean while, enjoy FREE SHIPPING on any item that is already listed. Also, talking of special sales: my dear friend Sweet Irie is offering 10% off!!! Don't miss out!




What's coming up?
I will take it easy for the next week, but as soon as I start to feel better I will be creating new items. For now I leave you with a little taste if you want to pamper yourself!