And another Saturday is upon us.....HAPPY EASTER to all of you!
Here the latest news, mostly about business this week.
♥ I'm taking a break for my
Etsy shop
: yes, you read it right. For the last 2 years I woke up in the morning scrambling over the PC with my hot coffee to list something, then crochet something, taking pictures, editing them and eat a sandwich at the PC again while I was listing another item, do all my chore and spend time with the kids in the afternoon so at night I can sit down at the PC and list while tweeting, facebooking, posting on kaboodle, votehandmade and what have you to get views.....all that to get 10 views at day in the best day. No more.
I actually got back to CREATE and to love what I create and loving it more this way.
I'm not going to leave Etsy completely: I will still take orders and list a few things, I'm just no going to sweat over a site that is not giving me nothing else.
♥ But, not all hopes are lost! I'm still very active in my
Artfire Studio
" new products are added daily and to celebrate Easter with all of you I'm having a
FREE SHIPPING SALE
and little samples are available like this
♥ I'm also very happy that My very best friend Michele at
Sweet Irie
decided to come back on Artfire. You can visit her studio
here
!
♥ The best news of the week was that I was accepted on
1000markets
. For those that don't know, 1000markets is a site to sell handmade, but it's not for everyone since is juried. So, I submitted my work and few days ago I got approved! Here a sneak pick for all of you and I'm offering a free gift with purchase for all the people that will go to shop there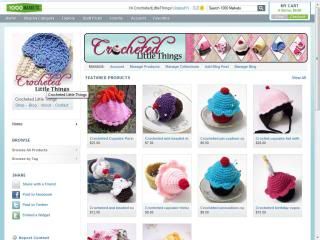 ♥ I got very spoiled this week with a lots of amazing things coming in the mail: but this is enough for another post!
♥ And now enough business talking and I'm going to share with you a band that lately I'm LOVING so much that was really hard to pick up just ONE song to share with you: The Nickel back. I'm so gonna buy all their CDs, they're simply amazing.
For now I settle down for this song, since it's a theme really dear (and also scary!) for me, hope you enjoy it!